14 years of helping a unique class of entrepreneurs and their businesses.
Over the years, Tanmeyah has fueled the growth ambitions of entrepreneurs in the micro and very small business sectors of Egypt. Through its wide range of financing programs, the company continues to support low-income enterprises through hassle-free and immediate funding. Tanmeyah's financing programs have helped facilitate day-to-day work for cottage industries and local business owners, allowing them to pursue opportunities within proximity to their families and homes while improving the lives of their surrounding communities.
Here is how Tanmeyah's financing programs have built a track record in helping its clients achieve success and leverage their technical and business skills to reach their full potential.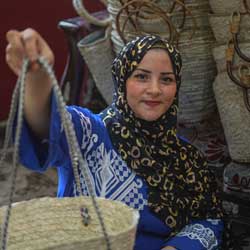 "I aspire to grow my business, allowing me to employ more people, and essentially helping them secure a stable income for themselves."
Gehad Samy Farouk, a 27-year-old woman from Fayoum, works with wicker. She started off selling wicker braids, but she quickly began receiving more encouragement from her family to develop her work. She began working with her family, making bags out of wicker, until she decided she wanted to go out on her own. Her only obstacle was securing the funds she needed to open up her own business. Once she heard about Tanmeyah, she decided to take out an EGP10,000 loan, which she received immediately to kickstart her independent career. Working hard to expand her business, Gehad went on to take another EGP12,000 loan as she diversified her bag business and explored new designs. Her aspirations are to continue developing her wicker business, making a name for herself, and hiring more people so they can profit as well. Gehad is confident that she can continue to work towards her goals, backed by the fulfillment from the sense of ownership and financial independence she has gained from her enterprise.
"With Tanmeyah's support, I plan on purchasing a second sewing machine and expanding my business further."
Rasha Ahmed, a 37-year-old woman, has always wanted to pursue a career as a seamstress. Being a mother and caretaker of her children, Rasha was unable to work at a factory and leave her children for long periods of time, so she began working out of her own home. Her at-home project was hindered by her inability to afford new sowing equipment, which led her to apply for funds from Tanmeyah to buy a more modern sowing machine. With the EGP10,000 loan she was granted, Rasha was able to open a small workshop near her home, therefore staying close to her family while taking orders from members of her community. She is now almost through paying off her loan, and wants to continue to expand her operation, buying an even newer machine and more fabric. She looks forward to taking out another loan from Tanmeyah in the future to fulfil her dream of growing her business freely, without needing to sacrifice her time with her family.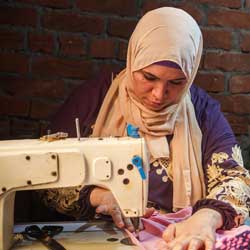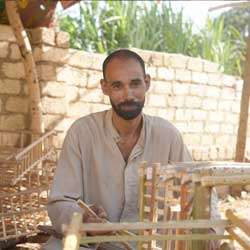 "I dream of owning a second workshop, where I can recruit and employ more people."
Mohamed Ramadan Tolba, a 32-year-old man with a strong entrepreneurial spirit, has worked on his own since he was six years old. He works with palm tree wood, building crates and pens for customers. Mohamed used to work for hire, but once he decided to take out a loan of EGP10,000 from Tanmeyah, he was finally able to open up a small workshop of his own and hire two helpers to grow his output.
Mohamed has always believed that those who work hard are rewarded in return and he has plans to expand his industrial operation in the future, employing even more people and developing his business further.
"My ambitions are much larger than just a workshop, I aspire to have my own factory."
Mohammed began his work as a blacksmith when he was offered a job as an assistant at his friend's shop, while pursuing a bachelor's degree in Geography. He was keen on learning the basics of iron manufacturing, and despite the job's difficulty, Mohammed acquired an impressive skillset within one month. With the introduction of many iron techniques and artistic elements, his passion as a blacksmith grew, which led him to open a workshop of his own, expanding his product offering through two additional branches over time. After hearing about Tanmeyah's services from his relatives, Mohammed was quick to apply for financing his expansion plans and equipment needs. In the last four years, he's used their services twice to finance his shops, and remains determined to reach his goal of opening a factory with the help of Tanmeyah."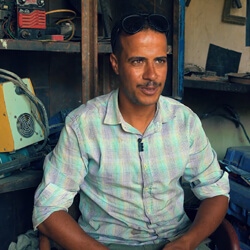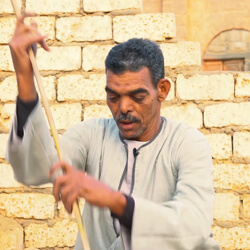 "I dream of having my own car to facilitate operations such as moving cargo from one destination to the other and providing transport services to my clients."
The history of sprig field projects dates to 50/60 years ago as every sector in Egypt relies on sprigs, especially the agriculture sector. When Adel heard about Tanmeyah's branch opening in Fayoum, he was bent on using their funding services to grow his microenterprise. He first applied for a loan of EGP8,000 followed by EGP20,000, which were both received within a days' time. After seeing his output double, Adel is certain that he'll be using more of Tanmeyah's funding to fuel his future growth plans. His dreams of having his own truck to carry and transport produce seem closer than ever.
"Tanmeyah's financing program has helped me boost my sales and profits by enabling me to increase my inventory and of raw materials. "
Heba began knitting to make crocheted clothing for herself and her family members. Seeing potential, her family began spreading her work through word of mouth and she began to receive orders from their acquaintances and colleagues. After some time, using online marketing, Heba began to grow her business, receiving commissions for more work, including rugs. Lacking the capital to purchase the material for the rugs, Heba went to Tanmeyah upon her friend's advice for a loan. She was able to successfully buy in bulk the material, make profit and grow her business and now has future plans to set up a knitting workshop.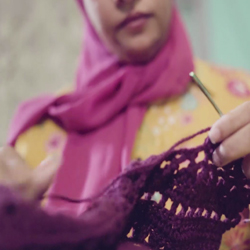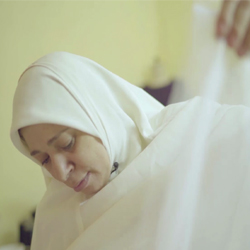 "This financing program has allowed me to buy a new sewing machine as well as more raw materials to fuel my production."
Um Amr, a mother of four, has always been passionate about dressmaking. As a young girl, she began making dresses for her dolls, learning the craft at a young age. Despite initial objections from her father, she became the first in her family to complete her education and begin working, first making dresses for her neighbors and acquaintances at home. Following a break, she resumed work when her children were in school, with support from her husband. Rather than work at a factory, she decided that she wanted to open her own shop and for a while did well. Needing more capital for material however, her friend referred her to Tanmeyah. Upon meeting with them and receiving a loan, she was able to grow her business and fulfill her dream of owning her own dressmaking shop.
"With Tanmeyah by my side, I have ambitious plans to open a second branch right next to this one."
Mohammed Saeed owns a laundromat in Shubra, which provides laundry, dry-cleaning and ironing services. He first began working on his own, using minimal equipment, and outsourcing many of his cleaning services. Finally, after hearing about Tanmeyah's popular Khalafawi branch in the neighborhood, he decided to take out his first EGP10,000 through the micro enterprise financing program. The financing allowed Saeed to use higher quality equipment, enabling him to strengthen his position in the market and continue expanding his business in Shubra. Subsequently, Saeed successfully applied for two further lending rounds, investing in more carpet cleaning, and washing machinery, simultaneously reducing costs, and taking away his reliance on external services.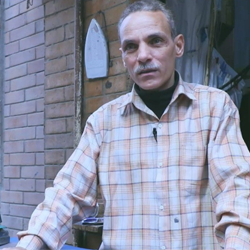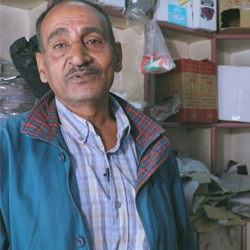 "This program fueled my growth ambitions and contributed to increasing my business profits. As a result, I was able to finance and support my youngest daughter's marriage."
Edward Fahim is a 61-year-old man, who owns a retail store in Shubra al-Khaimah, which sells different types of manufacturing materials including plastic and aluminum. After securing EGP13,000 from Tanmeyah's financing services, he increased his inventory levels to drive stronger sales. To date, Tanmeyah has provided Edward with four lending issuances, the first one with an amount of EGP10,000, followed by three others with an amount of EGP13,000, with every penny invested fueling growth in his business and profits.